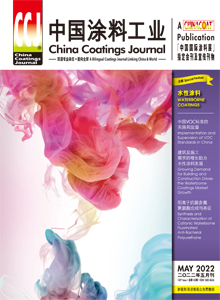 CURRENT ISSUE
May 2022
PUBLICATION DATE
May 15, 2022
Content
Editor's Note
Coatings for Batteries
— Prof. Long Lin
I remember my conversation, more than six years ago, with a group of colleagues from one of the Fortune top 100 companies about one of the more challenging issues to achieving mass market adoption of electric vehicles, namely, the limited battery capacity that necessitated time-consuming recharging, a problem that oil or gas fuel powered vehicles do not encounter.
Market Insight
Growing Demand for Building and Construction Drives the Waterborne Coatings Market Growth
— Sally Yick, Managing Editor, China Coatings Journal
The development of bio-based products and increasing government support due to VOC emissions is likely to act as an opportunity. Asia-Pacific dominated the market across the globe with the largest consumption in countries such as India, China, etc.
Regional Updates
Implementation and Supervision of VOC Standards in China
— Bryan Zhou, Senior Regulatory Consultant, CIRS Europe
Volatile Organic Compounds (VOCs) are organic chemical compounds e.g. ethanol, formaldehyde and benzene which may rapidly evaporate due to their high vapour pressure and low boiling point. Currently, different regions and countries such as the EU, the US, Canada, Japan and China have implemented their own VOC standards.
Polymer
Synthesis and Characterisation of Cationic Waterborne Fluorinated Anti-Bacterial Polyurethane
— Dr. Jianqing Hu, Hongjun He, Dr. Kaimei Peng, School of Chemistry and Chemical Engineering, South China University of Technology, Guangdong, Guangzhou, P.R. China; Dr. Xingyu Gong, Haowei Huang, Department of Research and Development, Keshun Waterproof Technology Co., Ltd, Guangdong, Foshan, P.R. China
Controlling the growth and reproduction of bacteria is a global concern, and every year a large number of people are harmed by infection with pathogenic bacteria. With the improvement of people's living standards, the people have higher requirements for the performance of consumer products. Today's very popular electronic products, such as mobile phones, tablet computers, etc., due to the high frequency of use in different scenarios, various bacteria will breed on the surface, which not only affects the experience of the product, but also adversely affects the health of the public.
Waterborne Coatings
How It Works: Theory and Practice of Waterborne 2K PU Coatings
— Prof. Wang Wusheng, College of Chemistry and Chemical Engineering, Anhui University, P.R. China
Waterborne two-component polyurethane coating (WB-2KPU) is a thermosetting reactive system comprised of water-dispersible polyisocyanate crosslinkers and is mixed with hydroxy-functional polymer in a water disperse medium that crosslinks upon a substrate after application. Despite the fact that practical knowledge regarding formulation and application of WB 2K-PURs has been recognised for the last two decades, minimal scientific information pertaining to its fundamental processes exist.
Regular Columns
Product Literature
Industry News
Global Trade Shows, Conferences & Forums
Advertisers' Index